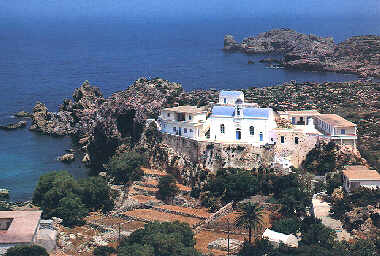 the monastery
Monastery of Hryssoskalitissa (golden stair) (GR: Χρυσοσκαλίτισα). The monastery is dedicated to the Assumption of the Holy Mother. It is located at the southwest part of Kissamos, 73km away from Hania.
The monastery is built on a rock and pilgrims visiting have to follow a staircase carved on it with 98 steps. According to the tradition, the last one was made of gold but only faithful people could see it ( hence the name of the monastery from the words Hriso meaning gold and Skalitissa meaning of the stair). According to the tradition, however, the Patriarchy in Constantinople gave the gold step to the Ottoman sultan in order to achieve better treatment for the Christians.
In 1900 the monastic order resident on the monastery was disbanded by the Turks and its lands sold. Solitary monks however continued to live there and maintain the old building as best as they could.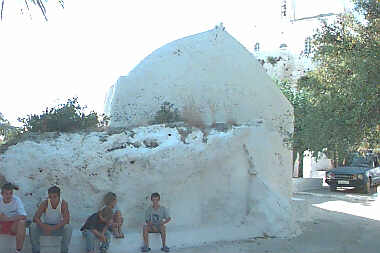 Today the monastery is open to all people who can visit and maybe stay for a couple of nights, if there are free cells.
More photos from external sources:
Panoramio™ Photos
[Area of photos]