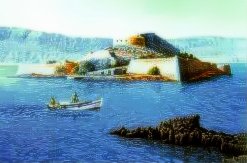 Spinaloga is a small rocky islet - area 85000 square meters, highest point 53m - in the entrance of the lagoon of
Elounda
.
Spinaloga, since antiquity, has protected the harbor of ancient Olous.
It used to be one of the most powerful fortresses of the Venetian Crete, and it was never conquered. Its high walls were built in 1579 and are preserved today intact. In 1630 it had 35 cannons.
Its distance from the adjacent peninsula is only 150m and it is said that originally Spinalonga was part of the peninsula, but the Venetians, wanting to make the castle impregnable, dug a channel to separate them.
According to Venetian documents, the name of the island originated in the Greek expression "stin Elounda" (GR: στην Ελούντα, meaning "to Elounda"). The Venetians could not understand the expression so they familiarized it using their own language, and called it spina "thorn" lunga "long", an expression that was also maintained by the locals. The Venetians were inspired for this expression by the name of an island near Venice called by the same name and which is known today as the island of Giudecca.
For half a century after the Turkish conquest of Crete, Spinalonga remained in the hands of the Venetians and was a refuge for many Christians who fled there to escape from the Turks.
In 1715 the islet was handed over to the Turks with the conclusion of a treaty. After the Cretan revolution of 1866 it was the turn of the Ottoman families that feared Christian reprisals, to seek refuge in Spinalonga. In 1881 the 227 Ottoman families formed their own community and developed a significant commercial activity. In the years that followed, until the end of the 19
th
century, however, as the political situation had changed in Crete , the life in Spinalonga had become unsafe and in 1903, the last Turks left the island.
In 1897 and for one year French military force has settled on the island.
Buildings, especially two storey houses, from this Ottoman period are still preserved.
From 1903 to 1958 the islet served as a
leper colony
mainly for Cretans. New buildings had been added in order to host the new residents who received food, water, medical attention and social security payments.
In 70's the island was declared officially a protected archaeological site and since then continuous efforts are being made to preserve and maintain the Venetian walls and other significant buildings while others - especially the recent additions were demolished.
Today Spinalonga is one of the most visited archaeological sites in Crete, receiving over 1200 visitors every day (tourist period) who are attracted by its history and architecture. The ticket to enter the site costs ~ 2€ per person and the tour around the island can take from 1 to 2 hours.
Visitors can reach the island by boat, departing from Elounda, Plaka and Agios Nikolaos.
More information from external sources:
In and/or around Spinalonga island:


(within a radius of 30 Km)