Found 2 - Showing : 1 - 2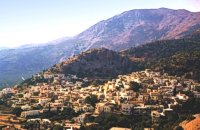 Viannos town & area
South east Iraklion
Historical place with outstanding natural beauty, unspoiled villages and great beaches. The town of Ano Viannos is built amphitheatrically on the southern slopes of Dikti mountain at 560 m. above sea in a distance of 65km from Iraklion and 40km from Ierapetra. It preserves the traditional character with the narrow paved streets, the stone built houses - especially the "Plaka' quarter - the old kefeneios with tables under the plane trees and old churches such as Agios Georgios and Agia Pelagia with wall paintings dating back to the 14th century. There are a few accommodation facilities, banks, medical center, taverns, gas stations, shops etc. Ano Viannos is the seat of the municipality of Viannos.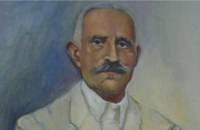 Ioannis Kondylakis
born in Viannos
Author and journalist(1862-1920). He was born in the village Ano Viannos in 1862. In his childhood he moved with his family in Piraeus. Quite soon though, only 3 years later, they got back at their special homeland and there, he finished the elementary school. Though he'd started attending high school in Iraklion, he finished it in Varvakeio School, in Athens.
His first novel was published in the newspaper 'Estia', in 1884. He was enrolled in the Philosophy School, but he never graduated.
In 1885 he got back in Crete, where he took a job as a teacher in Modi, Kydonias. His revolutionary character motivated him into writing patriotic articles in the local paper, an act that infuriated the Turkish occupants to such an extent that he had to flee in Athens, only this time he stayed permanently.
In Athens he worked for several newspapers like 'Estia', 'Asty' and 'Embros'. For more than 20 years he kept writing chronicles, which helped him win respect among the intellectuals. He used to use the pseudonym 'Diavatis' (Passer-by).
During his long literary career he wrote: 'Gramvoussa, i epanastasis en Kriti' (Gramvoussa, the revolution in Crete), 'I olokaftossis tou Arkadiou' (The Holocaust of Arkadi), 'Otan imoun daskalos' (When I was a teacher), 'Proti Agapi' (First Love), 'Eno diavaina' (When I was passing by), 'O Patouchas', 'Zampeliou Kai Kritovoulidou, Istoria Kritikon Epanastaseon' (Zampeliou and Kritovoulidou, Cretan Revolutions History), 'Imere kindynon kai fovou' (Days in danger and terror). Kondylakis' entire work is collected in his 'Apanta' (Collected works).Ioannis Kondylakis died in Irakleion, in 1920.


Area of search
Show all
Regional interest (1)
Sight Seeing (1)
Geography & Nature (1)
Towns & Villages (1)
Culture (1)
History & Archaeology (1)
Arts & Literature (1)