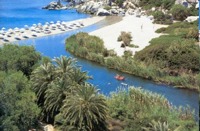 The gorge that forms the river "megapotamos" ends at the Libyan Sea creating a small lagoon at its mouth. This lagoon, which the locals call "Lake" (limni , Gr:Λίμνη), is surrounded by palm trees and rich vegetation and is one of the most attractive places in Crete. In the past it used to be the ideal place for camping and naturalism. The sea is clean with a dazzling range of green and blue colors and the beach has fine white sand.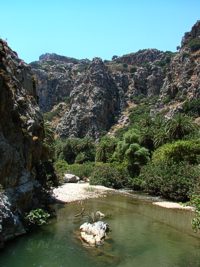 Preveli beach is accessible only by foot or by boat. There are two footpaths leading to Preveli beach, one from Preveli monastery (west) and the other from Drimiskiano Ammoudi (east), both are only a few minutes walk. Some organized cruises start from Plakias or Agia Galini to bring visitors to Preveli beach, which can be fairly crowded during the high season. Visitors can buy refreshments rent sun-beds, umbrellas and puddle boats from the canteen. The area belongs to the NATURA network and is protected by the authorities. Staying overnight is officially prohibited.
On August 22, 2010, a large proportion of the vegetation including the palm grove was destroyed in a fire which due to the strong winds was impossible to set under control. Very soon, however, the vegetation has totally and naturally regenerated.