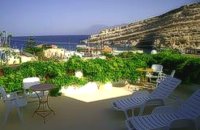 Die Zwei Bruder Pension & Villas for rent
We at Die Zwei Brueder (The Two Brothers) offer you nice, clean rooms. Although it's only two minutes walk to the beach or to the village, the pension's unique high placing guarantees you peace whenever you want it. Also help with information and car rentals to our customers.
Find also villas for rent in the area. Villas Panorama and Peristeri are situated in the village of Pitsidia very close to Matala, Kommos and Kalamaki. They offer high standards' accommodation and one has its own swimming pool.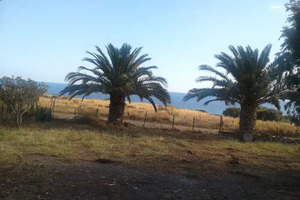 Antoni's Palm House
Krassas, Tsoutsouros
at 29.5km (E)
Palm House is a beautiful stone-built house on the south coast of Ceete. It is built on a tree-lined plot with panoramic sea views ,ideal for comfortable accommodation for 4 people. Its distance from the sea is only 300 meters.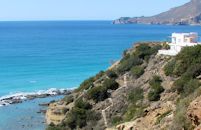 Aliori Estate Villas
Krasas, Tsoutsouros
at 29.6km (E)
Seaside Houses located an hour drive (60kms) from Heraklion's airport at Tsoutsouros village. The houses are on the top of a headland separating two bays with magnificent beaches - the one almost private! - constituting a majestic scenery of virgin Crete with both sea and mountain view.
Unique place for those who seek privacy, peace and romantic mood.
The houses are fully equipped and have large shaded verandas.
Prices from € 160/ night (2people)