Found 3 - Showing : 1 - 3
Default Sorting
Sorting By proximity to Elounda town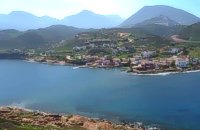 Mochlos village
Sitia, East Lassithi
at 18.6km (SE)
A small picturesque village by the sea characterized as a landscape of exquisite, natural beauty. With joyful and peaceful inhabitants who constantly tease each other. It is located in Crete, north of Lasithi prefecture, between Agios Nikolaos and Sitia, at equal distance (30-35km) from the three major cities(Agios Nikolaos, Sitia, Ierapetra).
Ideal place for holiday or special weekends.
You will enjoy the most colourful sunset and the most beautiful daybreak from any other place. The serenity of the morning open view, with the sun rising from the sea, will be unforgettable.
The small island, opposite the village, with the small church of Agios Nikolaos, offers a unique beauty to the landscape.



Sissi town
Mirabello, Lassithi
at 19.2km (W)
The village of Sissi, a picturesque village 40 km east of Heraklion and 25 km west of Ag. Nikolaos. Sissi is a beautiful fishing village with strange nature. On one side of the village the nature is wild, with a small river flowing into the sea, a number of palm trees on its banks, ducks and geese swimming peacefully. On the other side there are sandy and gravel beaches, caverns in the rocks and deep clear water, full of many kinds of fish. A place that gathers the nature of different places of Crete.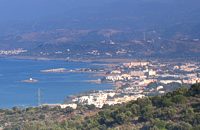 Malia Town
Pediada, North - East Iraklion
at 23.8km (W)
The famous tourist resort with all types of accommodations. Great beaches and a lively party atmosphere particularly in August. Becomes pretty quiet and peaceful during the rest of the season and there is a nice and picturesque part of the old village that preserves the traditional character. Malia has also a significant agricultural production and is famous for its bananas, potatoes and bottled water.


Area of search
Show all
Regional interest (31)
Sight Seeing (18)
Geography & Nature (6)
Towns & Villages (19)
Beaches (3)
Resorts (6)
Culture (16)
History & Archaeology (10)
Minoan Crete (4)
Museums (5)
Monasteries (1)
Education & Science (1)
Health (1)
People & Traditions (2)