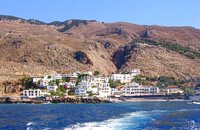 Sfakia Chora
Sfakia
Sfakia are centred around the White Mountains mountain range, Madares, as they are called in Crete with 110 peaks and the most and biggest gorges. Sfakia remain the most wild and unspoiled landscape in all Crete. Hora Sfakion, the seaside capital of the county, is a coastal village located on the Southwestern coast of Crete, 70 km from the city of Hania and 150 km from Iraklion. In its picturesque, enclosed harbor, the small boats from Agia Roumeli dock in the summer, bringing the hikers from the Samaria Gorge. Visitors can enjoy the quiet and calm of the village , on the seaside cafes and tavernas...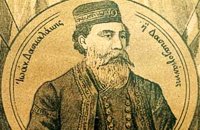 Daskalogiannis (Ioannis Vlachos)
Cretan hero born in Anopolis, Sfakia
Daskalogiannis (GR: Δασκαλογιάννης) - born in
Anopolis, Sfakia
- started planning a revolutionary liberation movement in Crete in 1769 and completed the preparations for the revolution in Sfakia in the spring of 1770. In 1770, the revolution that had already broken out in other parts of Greece broke out in Crete too. Daskalogiannis, revolt was the first step towards freedom from the Turkish occupation in Crete and kept people, hopes from freedom alive. The international airport of Chania is named after this hero.