Found 3 - Showing : 1 - 3
Default Sorting
Sorting By proximity to Plaka village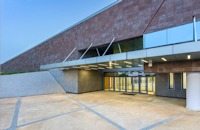 Hania Archaeological Museum
The museum is housed in the katholikon of the Venetian monastery of St. Francis. During the period of the Turkish occupation it was the Muslim mosque of Yussuf Pasha, while in modern times it was used as a cinema or a storehouse for military equipment. Since 1963 it has been functioning as the Archaeological Museum of the city. Apart from the permanent exhibition, the museum houses temporary exhibitions in the frame of certain local events
25 Chalidon Str., tel. +30821 90334
It contains impressive finds from the excavations of the ancient city of Kydonia, from Idramia, Aptera, Polyrinia, Kissamos, Elyros, Irtakina, Syia, Lissos, Chania, Axos, and Lappa.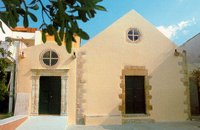 San Salvatore Monastery
Hania, old town
at 19.1km (NW)
The Franciscan monastery of San Salvatore, that houses the Byzantine and Post-Byzantine Collection of Chania, was built on the west side of the fortress of Chania, in three phases from the 15th century until the late Venetian period (middle of 17th century). The extensive restoration of the church made it possible to identify more clearly the various building phases of the monument, unify the space, and display its austere, uncluttered architectural features to good effect. The original church, which probably dates from the 15th century, was the small domed section on the east side.



Myriokefala village
It is built at 500m a.s.l. and 37km away from the city of Rethymno, with 400 inhabitants most of them farmers and stock breeders. It took its name due to its position, "MYRIOKEFALA" means myriads of heads (here :Hills). It is the birth place of George Maravelakis, a great fighter of the 1866 revolution against the turks. The monastery of Miriokefala, an interesting sight, devoted to the Holly Mother, was established by Ai Kir Giannis (a Cretan Saint) in the 11th century. There are many icons of Byzantine art, among them this of Holly Mother.


Area of search
Show all
Regional interest (41)
Sight Seeing (32)
Geography & Nature (10)
Towns & Villages (24)
Beaches (5)
Resorts (6)
Fountains (1)
Culture (20)
History & Archaeology (13)
Minoan Crete (2)
Museums (10)
Monasteries (3)
Arts & Literature (2)
Education & Science (4)
Health (2)
People & Traditions (2)
Tourism & Leisure (1)
Food & Entertainment (1)
Sports & Recreation (2)
Transportation (1)