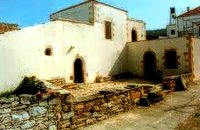 Historical and Folklore Museum of Gavalohori
Gavalohori, Vamos, Apokoronas
at 19.4km (N)
The exhibition of the objects takes place according to the contemporary museum conception, with explanatory texts, photographs, plans, models, and is enriched with new exhibits every year. The Museum is divided into seven rooms, according to the following units: The Arched House, Silk, Pottery, Lace-making, Masonry and Stone carving, Church and Woodcarving.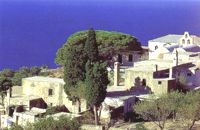 Preveli Monastery
Agios Vassilios, Rethymnon south
at 28km (E)
It stands 37 km south of Rethimnon, in an imposing landscape which is mentioned at the mid-19th century diary of
Th. Spratt
(admiral of the British Royal Navy), as "one of the happiest places to withdraw from trials and responsibilities of life".There are lots of legends concerning the foundation of the monastery, which is believed that started during the Venetian occupation of the island. A number of its monks activities made the monastery one of the richest of western Crete and due to its isolated position it played important role in Cretan revolts against the occupying forces. A substantial number of icons and other items is kept in the Museum of the Monastery of Preveli amongst them the miracle - working Eulogistic Cross of Efraim Prevelis.
Image Library