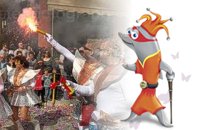 Rethymnon Carnival
Rethymnon city
at 20.3km (NE)
In winter the town of Rethymno lives in the rhythm of Carnival. Here, the grandest carnival on the island of Crete is organised. Apart from the great parade on Shrove Sunday, a large number of activities complete the framework of the Carnival festivities. The locals devotedly and cheerfully prepare for this season with creativity, they sacrifice their spare time and become young again while rejoicing and celebrating parties almost on a daily basis. More than 4,000 people have worked feverishly for months in order to present their masks and carriages on the great Carnival parade…The following day, on Shrove Monday people from the countryside play a leading part in the festivities. Unique traditions are revived in the villages and everybody is invited to participate in games, street performances and satires as for example "the kidnapping of the bride", the "Cadi", the "smudging of people". These performances in combination with good wine and the music of the lyre are a successful formula for a unique experience.
Links:
www.carnivalrethymno.com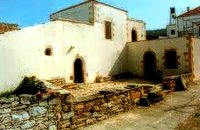 Historical and Folklore Museum of Gavalohori
Gavalohori, Vamos, Apokoronas
at 20.6km (NW)
The exhibition of the objects takes place according to the contemporary museum conception, with explanatory texts, photographs, plans, models, and is enriched with new exhibits every year. The Museum is divided into seven rooms, according to the following units: The Arched House, Silk, Pottery, Lace-making, Masonry and Stone carving, Church and Woodcarving.