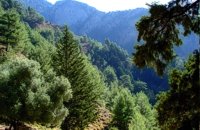 Samaria Gorge
Sfakia, South Hania
The Samaria Gorge is one of the longest ravines in Europe (with a total length of 16 km) and offers one of the most spectacular hiking routes in Europe. Its width ranges from 150 m (widest part) to 3 m (narrowest part). The walk from Xyloskalo in the plateau of Omalos to the shores of Libyan sea at Agia Roumeli, takes 6 to 8 hours. The Samaria Gorge has been designated as a
national park
in order to protect its flora and fauna. It is one of the last shelters of the mountain goat of Crete (Cretan Ibex, common name : kri-kri). The flora is extensive, ranging from high cypress trees to flowers and herbs. The walking path follows the river which flows to small lakes and waterfalls.
The Gorge is open to visitors from May to October.
Image Library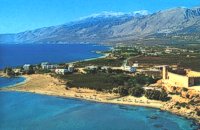 Frangokastello
Sfakia, South Hania
On the south coast of Crete, on a magnificent white sandy beach, stands one of the most beautiful Venetian fortresses, Fragokastello, built in 1371. It is located approximately 170 km from Iraklion, 70 km from Rethimnon, and 70 Km from Hania. Today, Fragokastello is a small, but developing, community, with nice beaches covered in sand dunes, and limited, but increasing, tourist facilities.The Villages Patsianos and Kalikratis, the castle, the history of the place and the fenomenon of Drossoulites...