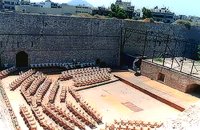 Manos Hatzidakis Open Theatre
Iraklion
Behind the "N.Kazantzakis open theatre", in the low square of the Gate of Jesus, was made after the proposal of Manos Hatzidakis and the design of Dionysis Fotopoulos, the Small Open Theatre, that recently named after the famous composer. It is constructed in a way so that is not caused damage in the Venetian Walls, that have been characterized as preservable monuments. In the "Manos Hatzidakis open theatre" (400 - 450 seats), as in "N.Kazantzakis open theatre" a lot of important events took place during the Heraklion Summer Festival.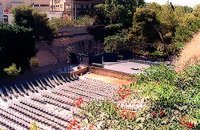 Nikos Kazantzakis Open Theatre (Oasis)
Iraklion
Oasis is the part of the ditch of the new Venetian fortification that corresponds to the Rampant of Jesus. East of the entry of Oasis is the Cyprus square, roughly 600m from the centre of the city. For the first time, Oasis functioned as a small theatre during the 2nd world war when enough pines were cut. Then, up to 1963, a lot of assemblies took place here, mainly political. In 1963, the first serious effort of exploitation of Oasis as summer theatre, which was maintained up to 1976. In 1976 the theatre was created with the form that it has today. It became a modern open theatrical space of 1200 seats with all the necessary comforts.