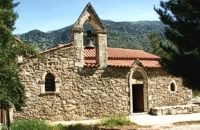 Varsamonero monastery
Voriza, South - West Iraklion
at 28.3km (S)
Close historical bonds link this monastery to that of Vrontisiou. The Varsamonerou Monastery lies in the surrounding fields of the village Voriza, 54.5 kms from Heraklion. The monastery is abandoned and, though its cells have been destroyed, its church has some of the most remarkable wall paintings in Crete.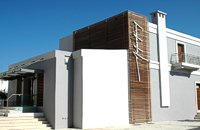 Nikos Kazantzakis Museum
Myrtia. Iraklion
at 28.8km (SE)
The Nikos Kazantzakis Museum is dedicated to the great Greek writer, poet and philosopher Nikos Kazantzakis. It was founded in 1983 and it is located at the village Myrtia in Iraklion, next to his father's house.
The museum contains some of his personal belongings (pipes, glasses, pens, etc.) and a rich collection of his manuscripts and letters, first Greek editions of his books, documents from theatrical productions of his works, copies of TV series and movies based on his novels, portraits of Nikos Kazantzakis, copies of press releases and articles on his life and work.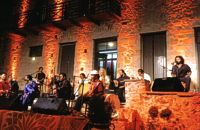 Labyrinth Musical Workshop
Houdetsi, Iraklion
at 29.7km (SE)
The Musical Workshop "Labyrinth" organizes seminars, concerts and various creative activities around modal traditional musics of the world. Labyrinth Musical Workshop was founded in 1982 by Ross Daly, with the goal of initiating young people, primarily, into a creative approach to traditional musical idioms from various parts of the world.