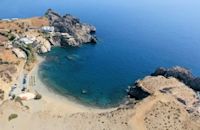 Agios Pavlos Beach
South Rethymnon
at 29.2km (SE)
The beach of Agios Pavlos is about 60 km from Rethymno and can be easily reached through an asphalt road.
In fact, Agios Pavlos is a small settlement on a beautiful, picturesque cove. Around and close to the beach there are some small hotels and taverns and right on the beach a beautiful cafe / bar.
West of the small settlement at a place known as Alatsogremni (Cliffs of salt) are the famous dunes of Agios Pavlos. Although dunes are not rare in the south coast of Crete, those are very impressive. High dunes that end in crystal clear, turquoise waters. A landscape of unique natural beauty that is worth seeing.
The scenery is even more imposing late in the afternoon, when the sun is setting and the sand gets a golden hue. It looks like an image coming from another world.

Between the small beach at Agios Pavlos and the Dunes we find the area of ​​Apoplystra with the unique rock formations. From the beach of Agios Pavlos climb a wooden staircase and you are in front of a unique spectacle. Rocks sculpted by salt water, in various shapes and wonderful colors.