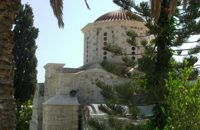 Agarathos Monastery
The monastery of Agaráthou (GR: Μονή Αγκαράθου), dedicated to the Virgin, stands at an altitude of 538m, on "Soros Panteli", a rocky hill between the villages of Sgourokefali and Sabas, 23 km from Heraklion.
During the period of Venetian rule it was a centre of learning, producing many famous churchmen including the Patriarchs Cyril Lucaris, Meletius Pegas and Sylvester the Cretan.
The church was rebuilt in 1894 and flourished once more after the end of the Turkish occupation. Young, educated monks with university degrees have recently settled in the monastery, restoring it to its former glory.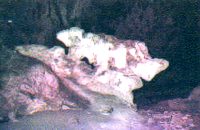 Agia Paraskevi Cave
Skotino,Gouves, Iraklion
at 29.8km (E)
This is one of the three largest caves in the prefecture of Heraklion. It lies at half an hour distance to the north-west from the village of Skotino and is at a height of 225 m. above sea-level. The entrance to the cave is impressive: a large arch, 27 m wide and 10 m high. To the right one can see the ruins of an ancient chapel on which the modern chapel dedicated to Aghia Paraskevi was built. There is a feast held in front of the chapel on July 26th .