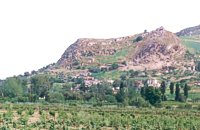 Douli village
Kenouriou, Iraklion
at 28.3km (W)
Doúli (GR: Δούλι) is a village in Kenouriou county, located 38 km from Iraklion at an altitude of 440 m above sea level.
The earliest reference to it, is to be found in the Duke's Archives of 1372, where it is mentioned as the feudal property of Nic. Venerio. The name figures in all the Venetian censi of the 16th and 17th centuries, as well as in the Turkish (1671) and Egyptian (1834) censi. In 1881, Douli forms part of the municipality of Megali Vrisi with about 170 inhabitants, and again in 1900 with only 21 inhabitants.
As of 1920, Douli is a commune in its own right, and today Douli has about 240 residents. The patron saint of the village is Aghios Panteleimonas and the feast of the Saint is celebrated on July 27th.A visit to the old church of Aghios Nikolaos is also a must. For those interested in paleontology, there are fossils to be found at the location 'Pirgos'.