Lissos (GR :Λισσός) was an ancient city in south-west Crete near the small coastal town of Sougia, ~70 km south of Chania.
Lissos and Syia were the harbours of the city of Elyros, the most important ancient city of the area, located near the village Rodovani. It was established in the Classical period and flourished until the Late Antiquity. Its name was made certain by inscriptions. The early history of the city is unknown. Based on inscriptions and coins of the 3rd century BC, we know that the city allied with King of Carthage Maga, and joined the League of Oreians. The koinon of the Oreians was consisted of the cities Lissos, Syia, Poikilassos, Tarra, Yrtakina and Elyros. Lissos had powerful trading and fishing navy.
There were discovered ruins of theatre, aqueduct, cemetery, and baths of the ancient times, and Palaiochristian basilicas. In the area, there were also found many votive objects, which are now exhibited at the Archaeological Museums of Heraklion and Chania. In no other city of Crete, apart from Gortys, there were found so many pieces of sculpture. This fact testifies the prosperity and the power of the Asclepieion of Lissos. Lissos has its own coins with the images of Artemis and dolphin and the word LISION (of the Lisians). Lissos and Yrtakina were allies and they had trading intercourse with common currency. Their coins had dolphin or flying dove on the one side, and eight-ray star with the word L/I/S/I/O/N (of the Lisians) on the other.
In 1957-58 the city was excavated by N. Platon.
Beside the Asklepieion and the Roman necropolis there are also two Greek Orthodox churches: Agios Kyrikos has some nice frescoes and the chapel of Panagia is build with ancient marble blocks.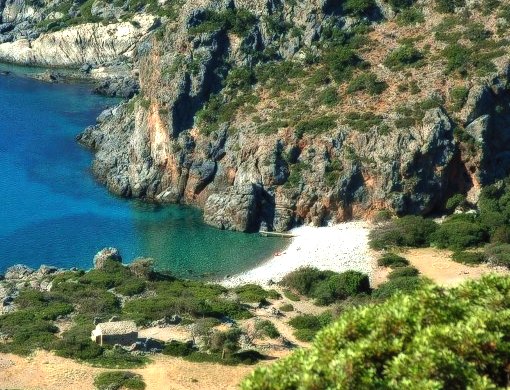 The small beach, set in a small cove, has coarse pebbles.
Nobody lives in Lissos nowadays. You can reach it from Sougia by boat or by foot (90 minutes walk).