Martsalo (GR: Μάρτσαλο, Mártsalo) is located on the mass of the Asterousia Mountains between Kefali (Cape Lithino) and Agiofarago. It is an impressive gorge about two kilometers long, which belongs to the hermitages of the Holy Monastery of Odigitria. Inside the gorge there is rich vegetation as well as a small palm forest in the middle of its route. The impressive cliffs are home to a large number of caves (similar to eagles' nests) inhabited by many of the area's ascetics. Gorge Martsalo is particularly steep and rough and ends at the Libyan Sea, where there is a small protected cove with a sandy- pebbly beach.
At this point is believed that was an important harbour of the Minoan times as evidenced by the archaeological excavations that brought to light a port settlement dating back to 1800-1600 BC.
When the Apostle Paul came to Crete and taught Christianity, the first sanctuaries and hermitages were Martsalo and Agiofarago. The area seems to have flourished from the first Christian years until the mid-Byzantine era (100-800 AD) when the institution of monasticism was founded in monasteries as we know them today.
In the middle of the gorge in an area called "Perivoli" (garden) there is a stone built water reservoir collecting the water of a small spring Around this the monks cultivated the land to secure a livelihood.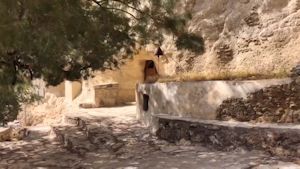 At the beginning of the Gorge there is a temple curved inside a large rock which is estimated to have been used as a catacomb-church during the period of persecution (or even earlier a Minoan tomb). This temple, was thereafter named "Panagia Martsaliani" and is dedicated to the "Annunciation of the Virgin" . It has the the shape of a cone like an oven and is 8m deep and 10meters high.
The church for some reason was abandoned while its entrance and dome were covered by rocks due to landslides. In the middle of the 19th century, one of the shepherds of the Hodegetria Monastery, named Lampakis, accidentally discovers the Temple and inside it the image of the Annunciation of the Virgin.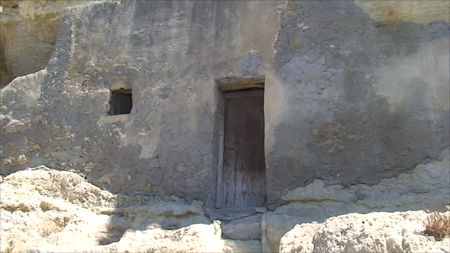 In Martsalo, the cell of the monks Saints, Parthenios and Eumenios, who are known for their miracles but also for their divinely inspired teaching, is preserved to this day. Saints Parthenios and Eumenios first received the solitary haircut at the Hodegetria Church, then practiced asceticism for twelve years in Martsalo and finally, persecuted, left for the eastern parts of Asterousia where they restored the Holy Monastery of Koudouma. (Source Holy Monastery of Odigitria
http://www.imodigitrias.gr/IMO_Martsalo.htm
)