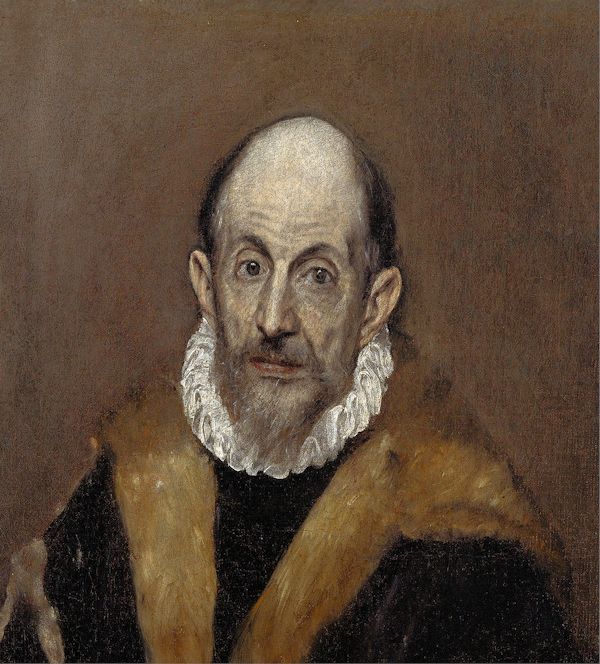 Domenikos
Theotokopoulos
Great painter famous as "EL GRECO"
(Fodele Iraklion Crete 1541 - Toledo Spain 1614)
Domenikos Theotokopoulos, was born in
Fodele
, a village near Iraklion in the island of Crete, about 1541. He grew up in an idyllic surrounding, a ravine through which a river runs among groves and huge planes.
In such an environment his character and his artistic ideas formed. Perhaps the small Byzantine church of "Virgin Mary", inspired him to treat religious themes and sacred items, and to express his feelings through such work.
Later on at the
monastery of Saint Catherine
in Candia (Iraklion), he was thoroughly trained, by the Sinai Friars, in the Byzantine tradition of icon painting and fell under the influence of the Cretan School, and it was here tha his expressive style first formed.
In 1566, at the age of 25, already counted as a "master painter", Theotokopoulos left Crete, to seek wider horizons, and better fortune.

First stop was Venice. (At that time Crete was part of the Venetian Empire). He stayed at Venice for about four years and completed his artistic training near Titian and the great painters of the High Renaissance such as Tintoretto, Veronese and Bassano.
Next stop was Rome, in about 1570 where he worked on architecture and sculpture and met famous artists. He felt, however, that the opportunities did not fit to his talent and as an "eternal exile" he left to Spain.
In Madrid, he worked for the Spanish King Philip II in the decoration of the Escorial Palace. His idea of art and his interpretation of themes were not fully understood by Philip, and so in 1577 Theotokopoulos went to Toledo.
At Toledo, which was at that time the biggest religious and spiritual center of Spain, Theotokopoulos came to work on the shrine of Santo Domingo el Antigono.
He loved Toledo as his second native land, and in 1584, he decided to settle there permanently.
Though he never married her, here he found Dona Jeronima de la Cuevas, the woman who loved and respected, and had, with her a son, Jorge- Manuel.
In Toledo his genius came into full flowering, and Theotokopoulos lived there working until his death in 1614.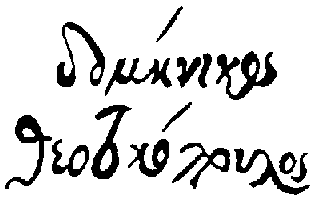 His Art
El Greco's art is the product of both his time and his genius.
The artistic currents and the places he visited, are reflected in his work. It is more difficult to outline precisely the influence of the Cretan School in his work. It is certain that he was trained in the art of the icon in the Cretan style but his works shows most clearly an absolute dependence of the Venetian School of the sixteenth century.
The influence of Titian is obvious and there is also a heavy debt to Tintoretto, whose anti naturalistic style, above all, in dealing with the human figure, deeply influenced El Greco.
Without exaggerating one can estimate the number of El Greco's works at about 500.
There are some landscapes and a few portraits, but the vast majority are of religious themes:
"Assumption", "Holy Trinity", "St John the Evangelist", "St. Sebastian", "Saints Peter and Paul", "Christ embracing the Cross", "Resurrection", "Annunciation", "St. Andrew", "Pentecost", "Baptism of Christ"
The most illustrious of his paintings are "Burial of the Conde de Orgaz", El Espolio", "Martyrdom of St. Maurice", "Laocoon", "Vision of Apocalypse" and "View of Toledo".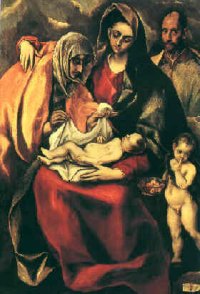 The Holy Family with Ann and St. John.
Santa Cruz museum (Toledo 1585)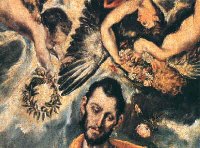 St John with Christ. (detail)
Toledo 1597-1599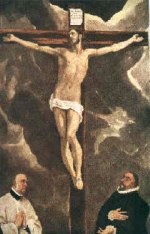 Christ on the Cross.
Louvre museum
Toledo gave to the homesick painter the quite, idyllic environment for which he was searching. It reminded him of his native land, and it gave him the opportunity to express his mystic temperament. He expresses his nostalgia and his pain through dark tones. The draws on memory make him to paint endless variations of the landscape in which he was born, expressed with a hyperbatic style of the Cretan School, lonely, unique, quite his own, but with no followers.
Above all, he expresses himself through color. He gradually moved from the warm tones that his contemporaries so favoured to a cold pallets of green - blue tones with lunar reflections. The cold color, the harsh light, the free brush worth all serve to bring at the deeper content of his work and to distinguish him from other painters of the Renaissance and of Mannerism.
Generally, his work might be summed up as manneristic but his later painting become more and more expressionistic; in this he is seen as a fore runner of modern painting.
At the time of his death his belonging included 115 paintings, 15 sketches and 150 drawings.

The only works by El Greco that are today on display on Crete, at the Historical Museum of Crete, are two paintings: The Baptism of Christ (1567) and View of Mt. Sinai and the Monastery of St. Catherine (1570).

El Greco: The film
Based on the fictionalized biographical novel, El Greco: o Zografos tou Theou (El Greco: the Painter of God), by Dimitris Siatopoulos, it was released in 2007, directed by Yannis Smaragdis and written by Jackie Pavlenko. The main cast features prominent recent Greek actors like Lakis Lazopoulos, Dimitra Matsouka and Dina Konsta, and includes popular actors of the Greek cinema of the 1960s such as Sotiris Moustakas† and Katerina Helmi, who, along with Juan Diego Botto, Laia Marull and others, surround the leading actor, Nick Ashdon, who portrays El Greco. (From Wikipedia, the free encyclopedia)
The soundtrack was composed by Vangelis (Evangelos Odysseas Papathanassiou).
El Greco: The Movie (2007) trailer No.1