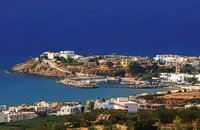 Makry Gialos (Long shore GR:Μακρύ Γιαλός) is a small beach resort on the south-east coast of Crete, located 60km from Agios Nikolaos, 25km from Ierapetra, and 33 km from Sitia.
Makry Gialos features a small fishing harbour and a nice 1km long sandy beach that stretches from the harbour to the east. Four more lovely beaches can be found in the immediate area. Accommodation is available mostly in family-run studio and apartment complexes and there is a good choice of bars, restaurants, tavernas, some of them right on the beach front or at the small fishing harbour.
Makry Gialos is the administrative centre of the wider area which comprises some picturesque traditional villages built on the tree covered mountain sides.
The area has been inhabited since the Minoan times as many ruins from this as well as the Roman and the Venetian periods prove.