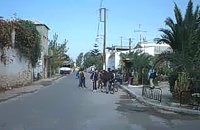 The village of Mournies is a principal village, located 3.8 km south of Hania at 40m a.s.l. It took the name "Mournies" from the numerous mulberry trees, that use to be here even today. At the beginning of the 17th century, Mournies was famous for its beautiful villas, belonging to local noblemen. One of them, located southeast of the village, was the imposing three storey villa of "Koukounara". It had beautiful flowery gardens, fountains, statues ..., a real paradise, where many famous persons were received hospitality, amongst them the glorious Mme Ortans, the empress Eugene of Napoleon the third, queen Olga of Greece, and the king Constantinos in 1913. The villa today, being restored, houses a department of the Geek Navy.
Mournies was the birth place of one of the greatest statesman of the new Hellenic Republic, Eleftherios Venizelos. Venizelos' influence on the history of Greece was paramount, from his participation to the talks with the Ottomans that resulted to granting Crete independence in 1897, to the final union of Crete with Greece in 1913. The
house of Venizelos
located in Mournies is going to be a museum, and many personal items of the politician are going to be on display there.