The Municipality of
Arkalohori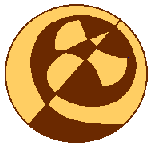 ---
The churches existing in the Arkalochori area reflect, in number as much as in architecture, the rich history of the area, as well as its role as a cultural and commercial centre on Crete for thousands of years.

The church of Profitis Ilias built at the top of the hill where the ancient cave was found is a landmark of Arkalochori.

.
The churches
of the area

At the place 'Prinias', near the village Archondiko there is the church of Virgin Mary the Life-giver, with old frescos.

The church of Agios Ioannis (St. John) on the way to the archaeological site of Galatiani Kefala.

The church of Virgin Mary in Arkalochori with old frescos.

The Byzantine church of Michael the Archangel just outside Arkalochori town with its cross-shaped roof. Exceptional sample of the era with interesting frescos.
---
[Arkalohori] [Arhontiko-Houmeri-Zinta-Patsideros] [Gassi-Moussouta-Agia Semni] [Arch.Sites] [Churches]
Those pages are sponsored by the Municipality of Arkalohori.
---



© 1997