Found 2 - Showing : 1 - 2
Lissos
Ancient town in Selino, South Hania
Located ~2.3km west of Sougia it was the religious centre of the cities in south-west Crete and the port of Elyros. It flourished during the Hellenistic and Roman periods. In 1957-58 Asklepieion was excavated by N. Platon. The most important monuments of the site are: The Temple of Asklepios, dated to the Hellenistic and Roman periods, Part of a Roman theatre, Rock-cut and built chamber tombs.
There two byzantine chapels dedicated to Our Lady and Agios Kirikos
The beach in the small cove has coarse pebbles and clear waters.
Lissos (GR: Λισσός) nowadays is uninhabited and can be reached from Sougia only by foot (~1& 1/2 hours walk) or by boat (~20 minutes).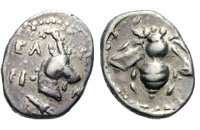 Elyros, Ancient city
Selino, Hania
Elyros ("Έλυρος" in Greek) is an ancient city, located in southwest Crete, in Kefala Hill, near the village Rodovani and is presently unexcavated. Elyros was flourishing at least as early as the Greek Classical Period, e.g. 500 to 350 BC. In the Classical Period Elyros was the most important ancient city in southwestern Crete, having about 16,000 inhabitants. It was an industrial and commercial city with large weapons production. Syia and Lissos were its harbours. Apollo, Phylakides and Philandros, sons of Apollo and nymph Akakallida, were worshiped there. In the third century BC Elyros was at war with Kydonia, an important center of Cretan power, located in the modern city of Chania. The citizens of Elyros sent to the Delphi Oracle, a bronze votive complex that represents a goat feeding the sons of Apollo when they were infants. It is also one of the thirty cities that signed the decree with Eumenes B' in 183 BC.Elyros was also important during Roman times. A Roman statue, the Philosopher of Elyros was recovered here and is now in the Archaeological Museum of Chania. During Byzantine times, Elyros was the seat of an Archbishop and the remains of the bishopric church, a sixth century basilica, can still be seen in the centre of the old city. Robert Pashley was the first who identified the location of the city, near village Rodovani. Thenon studied more carefully the ruins of the city and discovered the inscription that says: "it seemed to the city of the Elyrians".
The output of its mint consists of silver drachms from the 3rd c. BC, which depict a wild goat and a bee; in addition to their function as religious symbols, these undoubtedly hint at the stock-raising activities in the region, particularly to this kind of wild goat, which can still be found in great numbers on the island. The bee also has reference to the abundant honey-production of Crete.


Area of search
Show all
Regional interest (5)
Sight Seeing (1)
Towns & Villages (2)
Beaches (3)
Resorts (2)
Culture (2)
History & Archaeology (2)
Tourism & Leisure (1)
Hotels... (1 )