Found 3 - Showing : 1 - 3
Default Sorting
Sorting By proximity to Zakros Gorge of Dead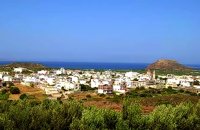 Palaikastro town
Sitia, East Lassithi
at 10.8km (N)
Palekastro (Palaíkastro GR: Παλαίκαστρο) is a lively, unpretentious town, at the east coast of Crete 20 km. away from Sitia and the seat of the Municipality of Itanos. It was named after an old castle. Its sources main income is agriculture and tourism. Although the town is growing, it manages and retain its character and charm. The town's square is the center of activities and is lined with cafes and taverns. Many a pleasant hour can be passed here, watching the world go by. During the summer months, weddings are often held in the village, with the huge wedding feast taking place in the square, to which everyone is invited. A chance to try your hand at Cretan dancing!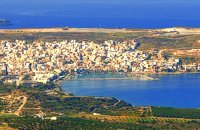 Sitia town
Sitia, East Lasssithi
at 17.6km (NW)
The easternmost town in Crete. A small and pleasant coastal town, built in a semicircle on the western side of the Bay of Sitia (Si̱teía GR: Σητεία), a typical, peaceful Mediterranean port. It is the capital of the county with the same name and is sited 69 km east of Agios Nikolaos.
Image Library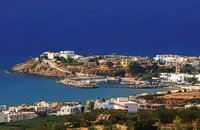 Makry Gialos town
Makry Gialos (Long shore GR:Μακρύ Γιαλός) is a small beach resort on the south-east coast of Crete, located 60km from Agios Nikolaos, 25km from Ierapetra, and 33 km from Sitia.
Makry Gialos features a small fishing harbour and a nice 1km long sandy beach that stretches from the harbour to the east. Four more lovely beaches can be found in the immediate area. Accommodation is available mostly in family-run studio and apartment complexes and there is a good choice of bars, restaurants, tavernas, some of them right on the beach front or at the small fishing harbour.
Makry Gialos is the administrative centre of the wider area which comprises some picturesque traditional villages built on the tree covered mountain sides.
The area has been inhabited since the Minoan times as many ruins from this as well as the Roman and the Venetian periods prove.


Area of search
Show all
Regional interest (27)
Sight Seeing (11)
Geography & Nature (3)
Towns & Villages (15)
Beaches (6)
Resorts (3)
Fountains (1)
Culture (11)
History & Archaeology (4)
Minoan Crete (5)
Museums (2)
Monasteries (2)
Arts & Literature (2)
Health (1)
People & Traditions (3)