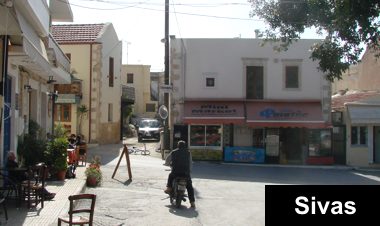 The central square
The village of SIVAS lies 62 km away from Iraklion , on the western slope of Asterousia Mountains. at an altitude of 110 m a.s.l.
Its 1000 years history comes to life for the visitor, who has the chance to admire its monuments, and old houses, perfectly preserved through the centuries.
That is the reason why Sivas has been characterized by the Ministry of Culture as a traditional and protected village.
Its inhabitants , about 600 people, many of them from other countries recently relocated here, feel proud for their village, and do their best to protect its beauty and traditional character.
There are many suggestions about the origin of the name SIVA. Some say that it has to do with SHIVA the god of INDIA, or SIWA the famous oasis of EGYPT where the temple of AMON ZEUS was built and was visited by ALEXANDER THE GREAT.
The Latin word Silva means forest and we know that Asterousia Mountains were covered not far ago with dense forests. But it seems more probable that the water springs ( in Arab SIVA) gave their name to the village.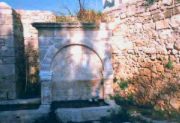 The Fountain
Near the village the archaeologists unearthed circular tombs of the pre-palace period (2600-2000 B.C.). Also in 1958 a full collection of early Hellenistic coins was unearthed. Most of these, however, were stolen by looters and only 36 coins were found and are currently on display at the Archaeological Museum of Iraklion.
Sivas is the birth place of various historical figures, that played important roles to the history of the island. These included Ai Kir-Giannis o Xenos, who helped reorganize the Christians after Nikiforos Fokas captured Crete from the Arabs, Ioannis Skoutis (Stefanakis) who fought during the Greek revolution against the Turks in 1821, and the writer Themos Kornaros.
Sivas can be reached from Iraklion following the main north-south axis of the island. There is a regular bus service twice a day from Iraklion.
In the village square , you can sit and enjoy your coffee in the traditional coffee shop, while children can play in the playground next to the school. You can also visit the church of Agios Ioannis in the same square. There are quite few rooms for rent in the village and tavernas serving traditional Cretan dishes.
There is also a ceramics workshop.
The local culture society organizes various cultural events during the last ten days of August.
Sivas can be the base of excursions to the south of Crete. It is located close to the archaeological sites of Gortys and Phaistos, and the beaches at Matala, Komos and Kalamaki. You can also hike down the Agiofarago Gorge, stopping at the old church of Agios Antonios, and ending to the beach.You can also visit the palm tree forest in Martsalos.
Photos