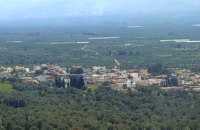 Agioi Déka (GR: Αγιοι Δέκα) is a town with 820 inhabitants in the plain of Messara, 170m above sea level, 43 km from Heraklion town and very close to the archaeological site of Gortyna. Its people are occupied mostly in agriculture - vines and olive trees. In the area there is is the oldest olive grove in Crete.
The town is built on the ruins of the ancient town of Gortyn where the Holy Ten Martyrs have been martyred. The old part of the town, around the Byzantine basilica is still maintaining its traditional character and many well preserved houses can be seen as well as parts of the ancient ruins.
The basilica has three vaulted aisles, a wooden temple and frescoes of the 13th century. The central nave is dedicated to the Holy Ten and the others to Saint Haralambos and Saint Titos.
Another church also dedicated to the Holy Ten is built exactly at the location where the graves of the martyrs have been found.
The town is the seat of the Municipality of Gortys.
The oldest report of the town is made in 1374 in a document of the ducal archives of Chandaka. It is also reported by Fr. Barozzi in 1577 and in 1583 by Kastrofylaka as Agius Deka.