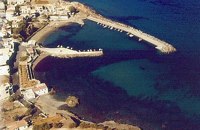 Panormo is a small coastal village with ~400 inhabitants, located 25km east of Rethymnon in a small distance from the national road.
The village has developed to a tourist resort providing quite a few tourist facilities such as hotels, apartments, lovely taverns and bars.
There is also a small fishing harbour that serves mostly the locals.
It is an nice place for swimming as its beaches - with umbrellas , sun beds etc - are with fine sand and clear water.
Early-Christian basilica in Panormo
In 1948 the archaeological axe brought to light the largest early-Christian basilica of Crete southwest of the village of Panormo. The basilica of Aghia Sofia had a wooden roof and dates back to the 5th century.
About 25km from Panormo to the mainland is the archaeological site of
Eleftherna.