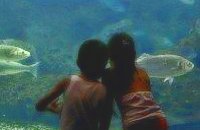 The CretAquarium - Thalassocosmos (GR: Θαλασσόκοσμος) was officially opened in December 2005. It provides its visitors with a special experience, a trip to the underwater world of the Mediterranean Sea and its creatures. It is a unique park whose focus is on science, education, culture and recreation and whose goal is to promote, share and spread knowledge concerning the marine environment.
Visitors come face to face with hundreds of species and thousands of living organisms and are fascinated by their behaviour as they reveal the wide variety of shapes, colors, habits and needs of their own world.
Cretaquarium Thalassocosmos is open 365 days a year, including all public holidays.
Address
Cretaquarium Thalassocosmos - Aquarium
Former American Base at Gournes
PO Box 2214
71003 Heraklion
Crete, Greece
Telephone: +30 2810 337788
Website:
www.cretaquarium.gr/