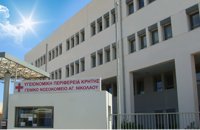 Agios Nikolaos General Hospital (GR: Γενικό Νοσοκομείο Αγίου Νικολάου) is located in Agios Nikolaos in the prefecture of Lassithi. The St. Nicholas Hospital is a large modern hospital that provides full medical treatment and services to the population of the area since 1940.
The medical services of the Hospital consists of the following sectors:
A. Pathology
B. Surgery
C. Laboratory Division
D. Department of Mental Health
General Information
Visiting hours:
Daily: 12:00 to 13:00, 17:00 to 18:00
Holidays: 11:00 to 13:00, 17:00 to 20:00
Telephone Appointment: 2841343606 (from 11:00 to 14:30).
Outpatient services: daily except holidays 9:00 to 13:00
Address: Const. Paleologos & Knossos, Agios Nikolaos, PC 72100
Phone:(+30) 2841343000, 2841066000
Fax: (+30)2841083327
URL:
www.agnhosp.gr
Email: info@agnhosp.gr