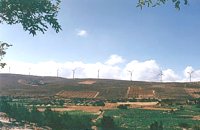 The picturesque hilly village of Arméni (GR: Αρμένοι) is situated at the plateau of Ziros, 27 km from Sitia through Handra and 23 km through the villages of Papagianades and Etia.
It was first recorded in a venetian census in 1583 with a population of 428. Today the village has approx. 400 inhabitants.
The sightseer is impressed by the numerous windmills in the area.
The church of Agia Sofia which used to be one of the most important churches of the Eastern Crete is also in Armeni. Amongst its icons, the Holy Mother presents interesting art features.
The Cave of Holy Spirit is also in the area of the village of Armeni. In the wider area you can also visit the Etia settlement.