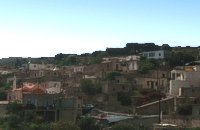 The Agia Triáda (Holy Trinity GR: Αγία Τριάδα)) Community is 35 km from the town of Sitia at the end of the plateau of Ziros, with a population of 156.
Long ago, the village was called Tso and today it is named after the Cathedral.
Despite of the 8 km distance from the sea, its residents are very good fishermen.
The Agia Triada Community includes the smaller communities of Dasonari, Livari, Achladi, Stalos and Amigdali.
The archaeological search gave many indications of ancient features especially in Stalos where a Minoan settlement and some vaulted tombs were brought to light.
In the area of Livari there is a Minoan cave the Alogara.