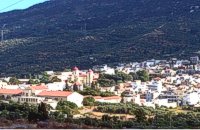 Neapolis is located 15 km westwards of Agios Nikolaos on the way to Heraklion from where it is roughly 50 km far. Neapolis is built in the green valley of Mirabello.
In the period of the Venetian domination its two settlements were named "New Village". But when the seat of the Prefecture was transferred from Fourni to the "New Village" this last was renamed to Neapolis. Neapolis was maintained as the capital of the prefecture of Lasithi till 1904. After that date Agios Nikolaos became the new capital.
Neapolis constitutes, even today, an important administrative, social and ecclesiastical centre assembling various services such as the County court, the Children's Home, the Metropolis seat. Moreover it organises, in annual base, important cultural events.Neapolis is a beautiful city with a nice town planning, big public gardens and imposing buildings. In the main square is the imposing and majestic church of the Virgin Mary built in the place of the Turkish mosque.
It was also the birth place of important personalities, like Petros Filargos or Fjlaretos, who was born in the settlement of Kares (destroyed by the Venetians in 1347)and who became Pope of Rome in 1409.
Among the historical monuments of the area a big number of churches is included, dated from the Venetian domination, as it is revealed by their stone-sculptured lintels. The church of Saint George constitutes a Christian and historical reference and in its locus was organised a "concealed school".
The city disposes of an appreciable folklore museum. Among its important folklore collections there are considerable Cretan hand-woven fabrics.
The town disposes also the "Iliakio" Municipal library operating for 50 and more years and accommodated in a two-storey building of important historical and architectural value. It has an historical value because it constituted the residence and the headquarters of Kostis Adosidis, (governor of the Prefecture of Lasithi and later-during the Ottoman domination- governor of Crete), and secondly an architectural value since it constitutes a typical pattern of the Ottoman public buildings. The same building had been used, from 1924 and up to the end of 80's, as an orphanage.