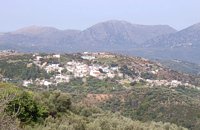 Askoi (GR: Ασκοί) is small village in the municipality of Kasteli has 315 inhabitants. It lies in the foothills of the Dikti mountain, 11 km to the east of Kasteli and 8 km from Lyttos.
Fr. Barozzi mentions it as Ascus, in the Pediada district, in 1577.
Recently a ritual clay figurine of the Mid-Minoan period was fortuitously unearthed on a peak close to the village. The remains of a large building belonging to a peak sanctuary have been excavated at Amygdalokefalo to the NE of the village.
A reference in a contract of 1271, mentions how Petri Comarii from the village (casali) Maski owes Ruggerino Temisano, resident in Chandax, 25 «mistata» of good Cretan wine from his vineyards in Maski.
Among other natural beauties, the ravine at Aski is well worth seeing.
On December 4th the village has a typical Cretan feast to honour Agia Varvara. And as in every Cretan village, raki and 'mezedes' are always available at the kafeneions.