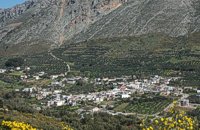 Kastamonitsa (GR: Κασταμονίτσα) is 7 km away from Kasteli, has 356 inhabitants and lies at 520 m above sea level, in the foothills of the Afendi mountain (1578 m), with the Dikti mountain in the background.
The village is not mentioned in the Venetian registers of the 16th and 17th centuries, nor in the Turkish census of 1671. It is possible that the name is related to that of Kastamoni in Asia Minor: refugees, driven out of their land by the Turks, may well have come and settled here, giving their new home the same name as their old one. But it is impossible to establish a precise date.
The Church of the Koimisi tis Theotokou (Dormition of Our Lady), located in the cemetery of the village, has wall paintings of the 14th century and points to a settlement here during the Venetian period. However, as we said before, the village is not mentioned in any Venetian census. The first reference is to be found in an Egyptian census conducted in 1834, where the village of Kastamonitsa is said to have 35 Christian families. And again in 1881, the village is said to have 320 Christian residents; no Turkish families are mentioned.
The location of the village on the way to the natural fortress of the Lassithi plateau which protects all of Eastern Crete, turned the area into a battlefield during the last century.
The Egyptian Pasha Hassan tried to invade the Lassithi plateau in 1822. The rebels cut him off between Krassi and Kastamonitsa, fighting him so well that he was forced to change his strategy and invade the plateau through its south side (Viannos and Ierapetra).
Other fierce battles took place in and around Kastamonitsa during the 1866-67 rebellions. Finally Omer Pasha, known as the Attila of Lassithi, found a way up through the glen at Geraki where an betrayer showed him the way.
A clay cast has been found in Mesarmi. It is elliptical in shape and has a width of about 0.25 m, and has a plaited decoration. A round glass vessel was also found at Xidiano Seli.
4 km out of the village you get to a lovely spot known as Mesada, where traditional celebrations take place on Easter Tuesday.The village boasts of several kapheneions and a taverna in the main square.
There is an active cultural centre, that organizes events especially in the summer. The most important and traditional feast is held on July 7th in honour of Aghia Kyriaki.