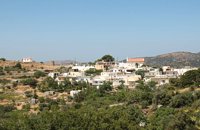 Mathia is 11 km to the SE of Kasteli, has 215 inhabitants and lies at 590 m above sea level, in the foothills of the Afendi mountain (1578 m), with the Dikti mountain in the background.
The earliest reference to the village can be found in several contracts of 1271 where the notary of Chandax P. Scardon mentions commercial exchanges of grain and wine with residents of the village 'Mithie', possibly a misspelling for Mathia. The name derives from the common first name for girls, 'Mattia', which in Crete is pronounced 'Mathia'.
Burials in jars of the middle Minoan period were discovered in 1957 close to the village, in a place known as Stavroplaka. To the NW of the village, at Katalimata, a Late Minoan site with important finds and, 200 m further off, a settlement with large walls still in place were also found.There are wonderful Byzantine wall paintings in the two churches of this traditional village, the church of Koimisi tis Panagias (Dormition of Our Lady) and the church of Agios Giorgos.
At Metochi, in beautiful surroundings where the historical holm-oak of Ismail Pasha stands among plane trees and running water, there are camping facilities.
You can also visit an old factory and several ruined mills.
The village boasts of several kapheneions where they serve raki and 'mezedes' (tit-bits).
There is an active cultural centre, that organizes events especially in the summer, with evenings of Cretan music and theatre plays. The most important and traditional feast is held on the Sunday of Agioi Pantes, 50 days after Easter.