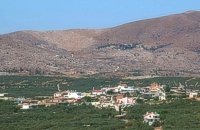 Polythéa (GR: Πολυθέα) is located 500 m NE of Kastelli at an altitude of 335m.N Nowadays Polythea has become part of Kasteli and it has 364 inhabitants.
Fr. Barozzi mentions it as Apigaiduri in 1577, belonging to the Pediada district and it continues to be known with that name until 1940, when it is re-baptized with its current name, Polythea.
The previous name of the village, Pigaidouri, is originated by the word 'pigaidi', which is Cretan for 'pigadi', which means 'a well'. It is a nice name that propably has been changed due to the fact that people thought it was a reference to 'gaidouri', which means 'donkey'.
Apart from the ubiquitous raki and mezedes served at the kapheneions, you can also find rooms for rent.
A typical Cretan feast is held here on August 15th for the Virgin Mary (Assumption).