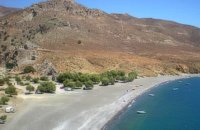 Tripití (or Trypití GR: Τρυπητή) is a 400m long beach on the southern Asterousia coastline. It is located 57km from Heraklion (west gate, Giofyros) via Agioi Deka - Vagionia - Vassiliki - Trypiti road. The last 10km, from Vassiliki to Trypiti, is a dirt but in fairly good condition road. The road passes over the gorge of Agios Savvas, with spectacular rocky walls, then through a forest of olive and carob trees and finally via the gorge of Trypiti through a very narrow passage reaches the beach. This is a very interesting route with breathtaking views and fantastic scenery.
Although it is a remote place, Tripití is very popular with locals and in the hot summer weekends it can be overcrowded. Unlike other coastal places there are only a few buildings, mostly huts, since the area belongs to the Natura network and there are restrictions in the use of land. There are however a lot of caravans that seem to be there on a permanent basis. Of course camping is prohibited and only one caravan can be hosted in each land property! Anyway there is plenty of room even in the shade of the tamarisks and the sea is very nice. The beach is covered with fine pebbles and sand and the water is crystal clear. The rocks around Trypiti are full of small caverns (holes) thus the name Trypiti which means the one with the holes. There are two taverns for basic food, drinks and the like, but no umbrellas and sun beds.
Around 400m from the beach towards the gorge there is the small church of "Panagia Trypiti" dedicated to Our Lady, which is built inside a rock.
From Trypiti the road continues to the west where after 10km reaches the coastal town of Lendas.