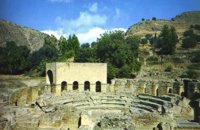 The Roman Odeum at Gortyn is considered one of the best and the most important of its type on Crete. Is has been founded at the North part of the Ancient Agora of the City. This semicircular building consists of three main parts:
a. The Cavea, connected with a domed corridor through three wide staircases;
b. the Orchestra, which has an internal diameter 8,5 m. and was paved with white and blue marble slabs;
c. The Scene, which had two entrances and the paraskenion, with mosaic pavement in geometric pattern. Statues of Muses stood in the niches. Initially the building was a circular Ekklesiasterion founded in the 5th c. BC. In the portico of this public building the Great Inscription with the Law Code of Gortyn dated to the early 5th c., stood. It was destroyed twice: in the 1st century BC, and again in 46 AD. After this last destruction it was reconstructed as an Odeum.
The great Inscription is considered to be the largest Greek inscription, the Queen of all Inscriptions. Its first fragments were found by the French travelers and were bought by the Louvre Museum. The most part of the Inscription was found accidentally by local farmers in 1884 and was further explored F. Halbherr.
It is a Law Code inscribed in the boustrophedon system of writing. It dates in the 1st half of the 5th c. BC and is the oldest Greek and European Law Code. It consists of twelve Deltoi and was built in the Ekklesiasterion of the 5th c BC. In this Code older laws, regarding the personal and family rights of the citizens of Gortyn, were codified.