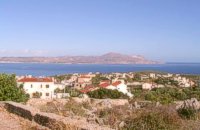 Pláka
(GR: Πλάκα) is a lovely village in the Apokoronas area, less than one kilometer away from Almyrida, with interesting architectural style, which is unfortunately changing due to intense building mainly for tourist purposes. Its ~300 permanent inhabitants, occupying mostly with farming, stock-breeding, fishing and lately with tourism.
It has all the basic amenities, including excellent tavernas, bars, a grocery store and a kafeneion.
Plaka is built on the slope of a hill at 70 m above sea, with a panoramic view of the bay of Souda. The surrounding environment has maintained its character well and is ideal for walks either inland or along the coast. Visitors can also admire a magical sunset from here. Every summer -at about the end of July- a two days traditional feast - The Plakiana - is organized to honour the memory of the great local lyra player Mihalis Papadakis or else Plakianos. During the feast guests enjoy Cretan dances and can visit the textile and ceramics exhibitions. The custom of Klidonas is celebrated at the end of June and the Carnival usually takes place in March.