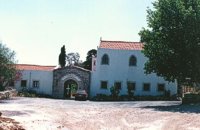 The monastery of Aghios Georgios the Gorgolainis (GR: Αγιος Γεώργιος Γοργολαΐνι) is located on an altitude of 400 m close to the Kato Asites village. It survived through several revolutions and wars during the Ottoman occupation.
This important monastery was built during the Venetian period. The oldest mention of this monastery comes from the 13th century. The temple of the monastery is dedicated to Aghios Georgios and was built in 1627. During the Ottoman occupation the monastery became a centre of revolutionary movements. Enormous oak trees cover big parts of the yard. Two of these trees, a platan tree and a cypress, have been characterised as natural monuments.
Even today, the small monastic community does not use microphones and electrical lights in the church; these practices help preserve the authenticity of the holy Mass and the vespers in the church of the monastery. The wooden sculpted chancel screen of the church from the 19th century is of great interest as well. The old monastery cells have been rebuilt during the1960ies and they were used as a summer camp for children by the Archbishop diocese of Crete.
In the courtyard one can see the bust of captain Fragkias Mastrachas who was killed in 1868 when he was 75 years old, during a battle against the Ottoman troops in Asites. Also, the fountain was adorned with a marble lion that was made during the Venetian period. Unfortunately, this sculpture was stolen in 1990.
The patron Saint is "Agia Paraskevi" celebrated on the 26th July .