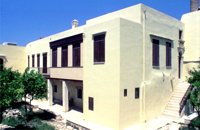 The Historical and Folklore Museum of Rethymno is located next to the Neratze Mosque. It is an institution of public benefit, founded in 1973 by the President of the Historical and Folklore Institution, Christoforos Stavroulakis, and Fali Vogiatzaki. The museum is housed in a restored Venetian building with an interior courtyard. The building is a wonderful piece of urban residence of the last phase of the Venetian occupation of Crete, built in the renaissance style by traditional craftsmen.
There are five halls with collections that include textile and basket weaving, embroidery & lace, costumes, ceramics, historic photographs and maps, weapons and coins. Over 5.000 items dating from the 17th to the 20th century are displayed.
One more hall houses temporary collections.
Open Monday to Friday 09.30-14.30. Closed Saturday and Sunday.
Tel: +30 28310 23398
Links:
www.culture.gr
www.rethymno.gr