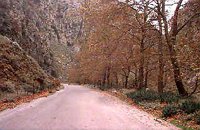 Within a few distance from the village of Perivolia, starts the gorgeous canyon of Therisso (Theriano faragi or Eleftherios Venizelos Gorge), which leads to the village of Therisso at 580m a.s.l.
Six kilometers long, the gorge stretches like a snake, with high, almost vertical walls, and rich flora and fauna.It was a difficult to trespass gate, for the invaders, and that is the reason why Therisso was the center of the Cretan rebels during the 19th Century.
The authorities has recently renamed the gorge, giving to it the name of the great Cretan statesman, Eleftherios Venizelos, who's name is strongly related with the area.