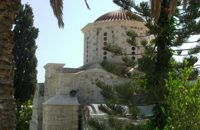 The monastery of Agaráthou (GR: Μονή Αγκαράθου), dedicated to the Virgin, stands at an altitude of 538m, on "Soros Panteli", a rocky hill between the villages of Sgourokefali and Sabas, 23 km from Heraklion.
During the period of Venetian rule it was a centre of learning, producing many famous churchmen including the Patriarchs Cyril Lucaris, Meletius Pegas and Sylvester the Cretan.
The church was rebuilt in 1894 and flourished once more after the end of the Turkish occupation. Young, educated monks with university degrees have recently settled in the monastery, restoring it to its former glory.