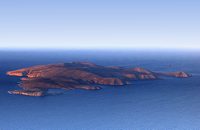 Dia (GR: Δία & Ντία) is an uninhabited island approximately 7 nautical miles north of Heraklion. It is surrounded by small rocky inlets and its maximum length is 5kms while its maximum width 3kms. Dia is one of NATURA's protected areas due to its status as a biotope for endemic plants and for plants with low dispersal within the Southern Aegean. It is also a vital breeding site for seabirds and species associated with coastal cliffs and one of the most important nesting areas for Eleonora's Falcon in the Southern Aegean. Monk seals are also often seen by local fishermen around the shores.
Dia looks like a giant lizard when viewed from the city of Heraklion and there is a legend that a giant lizard tried to destroy the island of Crete, but Zeus turned it in to stone with a thunderbolt, thus creating the island.
Access
There is no regular connection to Dia and the only way to access it is by private boat or join one of the organised daily cruises departing from Heraklion and other resorts of the north coast.
Swimming
Swimming in the waters of Dia is an unforgettable experience. The sea is crystal clear and the sea bed and under water scenery will satisfy everyone.
There are a few beaches with fine sand at the bay of Agios Georgios which is where the boats moor and one more at the bay of Panagia at the east part of the island.
History
It is believed that during Minoan times the island was populated and that there was a harbour settlement near the bay of Agios Georgios.
The Undersea discoveries of Jacques Yves Cousteau in 1974-5, with a special bathyscape and further exploration of the undersea floor in 1975-6, provided evidence suggesting that there stood one of the biggest and most important ports in the whole island of Crete. The harbour appears to have sunk due to the destruction caused in the 1450 bc by the eruption of the volcano of Santorini. Detailed aerial photos also pointed out traces of settlements, confirming the hypothesis that the island was previously inhabited. However, more archaeological research in the area is deemed vital for further establishing the evidence found so far.