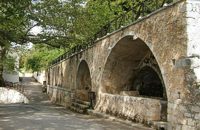 Krassi is a small village 47 Km's from Iraklion and 17 km from Malia at an altitude of 600 m.asl, on the way to Lassithi plateau, and is administratively part of the Municipality of Malia. The village is one of the prettiest in Crete, with a lot of springs. Due to the free running water , it is covered with walnut trees, plane trees and all kinds of vegetation. Next to the spring in the middle of the village is one of the oldest and biggest plane trees in Crete (its root has a circumference of 22 meters!).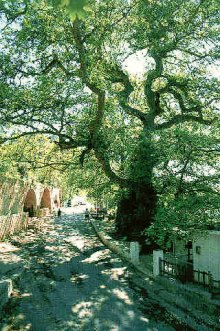 Nikos Kazantzakis one of the most important Greek writers and philosophers of the 20th century spent quite some time in Kratsi as evidenced by the plaque mounted on the spring in the center of the village.
There are various hypotheses regarding the etymology of the name of the village. Some suggest it was named from the ancient Greek word Kras meaning head/top due to its location high above the plane. Others suggest it was named after the first settler, mentioned in a notarie's document in 1279.
Krassi is mentioned together with the monastery of Kardiotissas, in a document from 1333 A.D. as belonging to the patriarch of Constantinople, who was renting the land to the locals.