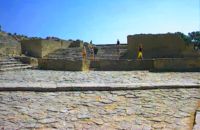 The large paved West Court, in front of the facade and the central entrance to the Palace complex, dates from the time of the Old Palace (1900 - 1700 BC) and played an important part in the lives of its inhabitants.
On the north it is bounded by a high which also supports the Upper Court, which is on a higher level. At the foot of the wall are eight wide steps which formed the seats of what may be called a theatral area. As with the corresponding "Theatre" of Knossos, from here spectators would have watched the religious events and festivals taking place in the court. The West Court is crossed by a raised "Processional Causeway" similar to that of the Upper Court, which continues up the steps of the Theatral Area.
During the time of New Palate the West Court was widened and raised to a higher level, so only 4 of its 8 steps remained visible. After the reduction of the Theatral Area, the great staircase must have been used as an additional theatral area for the events and ceremonies held in the West Court.