This is my log of the E4 long distance walk along the spine of Crete from East to West - it is intended to be a useful resource for others who are contemplating a similar walk; it is not intended in any way to be a complete route guide. For my preparation, I read Christopher Somerville's "The Golden Step", Christopher Thorne's "Between the Seas" and Stelios Jackson's wonderful account on the Interkriti website. They are all useful in their own way and between them they give a full history of the island.
Part One of this walk along the E4 in Crete is from Kato Zakros on the east coast to Fourfouras in the Amari Valley. This is about 285 kilometers and took me a total of ten walking days, starting at the beginning of June 2011. I managed to reach the summit of the main ranges along the way – Thripti, Dikti and Psiloritis. Although this is above and beyond the call of the official E4, I felt it was in the spirit of the E4 and, in Part Two, I have also gone off-piste in the spirit of spine-walking.
Part Two of the walk is from the Amari Valley to the Chrisoskalitisa Monastery on the west coast. This is about another 170 km and took a further 8 days (including a rest day at Askyfou). This part includes the two day crossing of the White Mountains, with a trip to the summit of Pachnes to complete the set. This was done at the end of August 2011.
This is the Elevation Profile for the complete 455 kilometre walk along the spine of Crete :

I have to say that, for navigation, I relied heavily on the Anavasi map on my Garmin GPS (
www.anavasi.gr/en/
). Reading other accounts of this sort of
E4 walking adventure
, I realised that a lot of time can be lost going round in circles and a lot of beautiful paths can be missed because often there is simply no way of knowing where the E4 is supposed to be on the ground. In conjunction with the GPS map which was very accurate, I used the three 1:100,000 Anavasi maps which cover the length of Crete - thereby minimising the weight and bulk of lots of more detailed paper maps.
NB - the maps I have used at the start of each chapter are NOT Anavasi maps - they are something I found free on the internet and they are totally inaccurate. Do not rely on these maps !!
I also could not have done without Loraine Wilson's amazing guide book:
The High Mountains of Crete: A Walking and Trekking Guide: The White Mountains, Psiloritis and Lassithi Ranges (Cicerone Mountain Guide)
. Both Loraine and Anavasi (Triantafyllos Adamakopoulos) were extremely supportive before and during the walk and I am grateful to them both.
As far as "kit" went, I strapped 2 Powertraveller solar panels to my Osprey (70 litre) rucksack to recharge my GPS batteries daily. This system also recharged the Powermonkey for my iPod and my mobile phone – all essential bits of kit – and it all worked extremely well.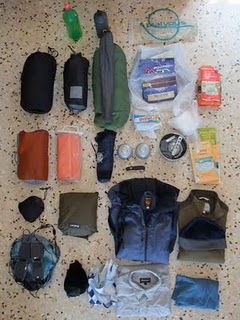 My kit for the walk on the E4 in Crete
about 18 kg (including minimum 2 litres of water
I also carried a tent, camping equipment, dried food and isotonic powdered drink sachets, so with all that and the battery charger I didn't need to leave the E4 trail at all to find overnight accommodation or fresh batteries. I just needed to pick up fresh water from time to time.
Some thoughts on blisters:
Before embarking on the walk, I walked and trained extensively (with full pack), mainly in the Yorkshire Dales where we live. Our local hills are the Howgills and the highest point is 676 metres; the ground underfoot is springy turf.
My boots were conventional Brasher boots (at least half a size larger than I normally wear) with a good EVA cushion above the rubber tread. I wore wool socks and had an orthotic insole with some anti-pronation angle and I used this combination for a good six months, including a month in Crete both on roads and on the limestone rubble that passes for paths there.
What happened on Part One of the walk was that my feet swelled by at least a size and my little toes were squeezed under their neighbour to excruciating effect. At the same time, especially on descents, the balls of my feet got deep blisters, which I tried to manage with Compeed plasters.
For Part Two, I made the following changes :
1. I changed to my "Keen" walking boots which have a really wide toe box and are a further full size bigger. They are not as rugged as the Brashers, and have less ankle protection, but they feel like slippers !
2. By knotting off the laces above the lowest lace point, I could stop the toes being squeezed even when the laces were pulled tight higher up.
3. I changed back to "Sole" Softec Ultra custom footbed insoles (which are a bit narrower at the toe than the Keen toebox shape) and did a bit of "art and craft"with the original Keen insoles to make sure there were no ridges inside the boots in the toe box area. These Sole insoles are stiff enough to compensate underfoot for a slightly less rugged boot and at the same time they have a wonderful depth of cushioning (Sole Unisex Softec Ultra Insole).
4. I also changed to "Sole" dual layer blister protection socks ("crew" length), again at least 1 size bigger than I usually take. These take up much less volume than conventional wool socks and they deservedly get good reviews for their blister protection qualities.
5. I tucked a small pad of raw, washed, sheep's wool (inside the socks) just in front of the ball of my left foot where two toes have lost some of their natural spring and leave the ball itself vulnerable to deep blisters. The wool moulded itself to the shape that the toes should have had without ever becoming hard or uncomfortable and I expect the natural lanolin helped a bit as well.
The result was truly miraculous and I reached the end of Part Two with nothing worse than a sore little toe. What a pleasure to be able to walk pain-free through that wonderful landscape !