Well - that was a very interesting day.
Another 07:30 start this time from Arghiroupolis dropping about 300 feet down through the town to the "waterfalls" where the fresh fish restaurants draw in the "out-of-towners" (mainly Greeks).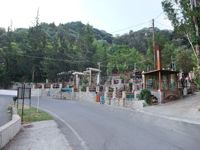 Fresh fish restaurant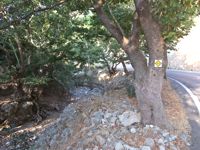 On the way to Asi Gonia
It is then a very pleasant, gently uphill, road walk to Asi Gonia which I reached in about 1 1/2 hours. I enjoyed a frappe in the same cafe where we had had had such good advice in May and it was nice that I was recognised. In the process I learnt that Psychoundakis - The Cretan Runner - was a native of Asi Gonia so we had a bit of a chat about him and PL-F (who died earlier this year - 2011).
Because we had researched this bit in May, it wasn't so daunting to leave the tarmac-bound E4 and to launch off uphill to make the old crossing (not yet on any map) between here and Askyfou. The first gully climb up to 3,300 ft was quite straight forward as we had done it before. Towards the top, the ground levels off somewhat and goes through a pleasantly wooded, shaded area. Here, the cairns stop and obvious sheep paths lead you onwards and upwards as this gully reaches the highest part of the crossing, above the tree line. This is where the classic karst landscape takes over and the sheep paths lead off in different directions - heading for shade or pasture.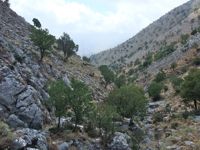 Looking back down the gully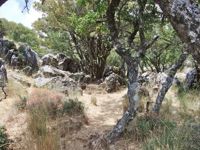 I think they call this
wooded area "horeftres"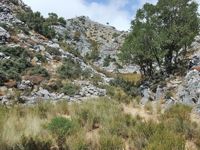 Sheep paths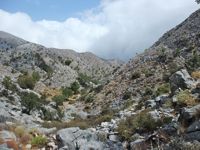 A series of sinkholes stretching west
I was fortunate that the clouds were some way above the peaks at over 4,000 ft so at least I was enjoying good visibility. However, one limestone sink hole looks much like another and by this stage there were no cairns, no red spots, no nothing.
So with some slightly crude extrapolation from the GPS coordinates (fortunately set to Greek geodesic by T) onto the map I was able to establish that I just needed to go due west. This was not as easy as it sounds as limestone escarpments kept getting in the way.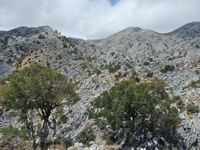 Difficult to see where the path might go !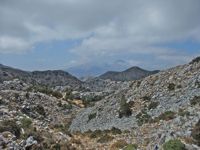 Finally, a sight of the White Mountains
Somehow, before starting the day's walk, I had had a vision of open upland grazing areas where I could see the route clearly and across which I could stroll effortlessly. The opposite: as soon as I had climbed up to a ridge on the far side of a sinkhole, I was confronted with another set of sinkholes with sheep trails leading up both the north east and the north west gullies.
Think "trial and error" - in the heat of the day and with a certain amount of wasted up. There is nothing worse than wasted up. In the end I think that the route I took was probably as good an option as any and it did eventually lead me to a freshly excavated shepherd's track leading downwards and generally westwards which was a relief after visions of this game of 3-D snakes and ladders going on all afternoon. Never has the sight of the White Mountains been so beautiful - I was over the highest part of the crossing.
It certainly helped that I could recognise Kastro and the start of the White Mountains massif in the far distance and the dirt road from Goni towards Asfendou closer to hand.
I left the shepherd's track at the top of the gully leading down to Goni and found the footpath which leads down the gully - nicely waymarked and easy to follow. However I hadn't reckoned on mile upon mile of stock fence at the bottom of the path preventing me from actually joining the dirt road into Goni. After a close encounter with an untethered dog I managed to climb the final hurdle and I was free for the final sprint across Askyfou to old Ammoudhari.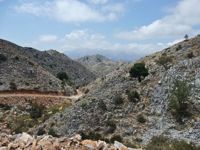 White Mountains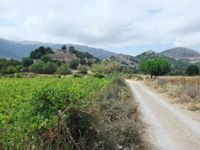 Across Askyfou
The crossing from Asi Gonia to Askyfou had taken about 6 hours but it was more rewarding than the E4 road walk. However, as they say on children's TV, don't try this on your own without Anavasi maps in your pocket and on your GPS. With luck by the time you read this, this path will actually be marked on your GPS !
And so to "rent rooms" in Ammoudhari (Pandelis and Rita) at €25 per night, a chilled beer, an excellent salad and one of those interesting plates of lamb bones and chips, all swimming in olive oil.