We had made camp in the yard beside the Aghios Ioannis chapel at Rouvas but, the following morning, it was quite clear that I wasn't going to go any further on foot until the shin splint had settled down a bit. Minor surgery on the blisters exposed the full extent of those problems and I hung them out to dry in the sun while Triantafyllos went off looking for paths to put on his maps. I think I was lucky not to get infected blisters but Betadine is a great resource which I used extensively.
Meanwhile about 300 sheep arrived noisily (the bells, the bells!) to crop the grass even shorter. Shortly after, Aristotelis the shepherd arrived and we had a long chat about this and that. The really big bells are carried by neutered billy goats who wander round with the flock and help the shepherd hear their position. He walks a daily round of 15 km keeping an eye on his sheep and moving them on. Most of his week is spent up in the Rouvas bowl based at his mitato which is near the Duo Prinoi chapel. He had already bumped into T who was out mapping.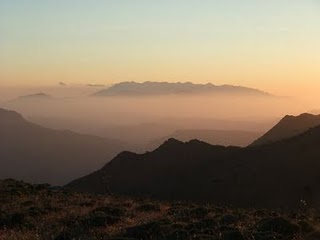 The White Mountains from Psiloritis at sunset
Once T was back we packed up the car and set off back up the dirt road and past the stone built follies on the rim of the Rouvas bowl. From there, it is a staggering view down to the south coast and it is only then that you realise that all this time you have been up at 3,000 ft. After mezedes at one of T's favourite spots, T downloaded my daily tracks since Kato Zakros and we went through each day's track so he could make alterations where there had been discrepancies (not that there had been many - and none serious). We then went round exploring old roads and new, and booked T into Windy Place at Fourfouras for the following night. More track finding and then the long pull (in the car) up the shepherd's track towards the upper western slopes of Psiloritis to find a beautiful camp site for the night above Platania at 4,000 ft. . The sun was setting behind the White Mountains and it was a calm evening. I enjoyed Chicken Tikka (rehydrated) while T ate up the salami. My little Vaude tent behaved brilliantly even in quite strong winds and we were only woken next morning by the shepherd trying to drive round our tents to get to his sheep.
The setting sun on the summit of Psiloritis
Next day (12th), T set off to find a route up the north west ridge of Psiloritis and was gone for most of the day. Meanwhile, I sat (or lay) and rested, listening to audio books and writing up the log. T got back mid afternoon, having made it to the top without finding any trace of a path going up that way, and we set off back down in the car to Fourfouras to check in at Windy Place where Yianni, Konstantina and their two delightful youngest daughters Theodosia and Alexandra gave us their by now traditional welcome. The telephone number is 28330 41000 (or 69804 51247 for Yianni's mobile). Konstantina had been holding a plastic bag for me since May with extra supplies for the second half of the trip so I retrieved those and settled in to enjoy a long-awaited hot shower and shave.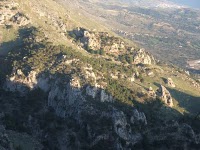 The view
That evening, T had had a long chat with Yianni about paths in the area and next morning he set off on foot to find two old routes up to the sheep grazing area on the shelf at 4,000 ft while I drove the car up to meet him at the top. Both these paths have been recently restored with the help of European money and are delightful walking – and certainly more secure under foot than the traditional E4 path down from the Toupotos Prinos hut to Fourfouras. The saddest thing is that these newly renovated paths are not promoted, are virtually unknown and therefore virtually unused. The good news is that they will feature on future editions of Anavasi maps !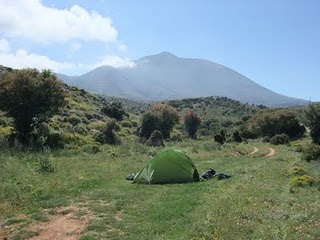 The campsite below Psiloritis
We went back to Windy Place for a final shower and then made our way back up to Rouvas for a night under canvas before my last two days of walking up and over Psiloritis.