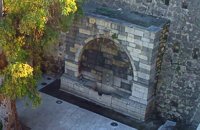 Chaniali fountain
Iraklion Old Town
at 30km (W)
It is next to the external Gate of St. George, underneath the statue of Eleutherios Venizelos. Within an arched construction, which its top is decorated with floral elements, there is a plaque and the spout is within a relief decorated frame. The water was collected in a marble basin of a similar decoration.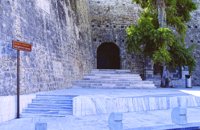 Agios Georgios Gate
Iraklion Old Town
at 30km (W)
The Gate of Agios Geórgios (GR: Πύλη Αγίου Γεωργίου - Saint George also called the Gate of Maroula or Lazaretto) was one of the central gates of Chandax during the Venetian period. Today it connects Eleftherias Square with Ikarou Avenue and at the same time is used as an exhibition venue.
The gate used to lead towards the eastern provinces of the city, the Maroula suburb and the Lazaretto. Designed by Giulio Savorgnan and dedicated to St. George, the monumental city side facade featured a relief medallion of the warrior saint on horseback, set directly above the finely carved stones that formed the main portal. This monumental facade was demolished in 1917 for the opening of today's Democratias Avenue. Of the gate today, its entrance towards Ikarou Avenue is preserved, the internal domed hall and part of its climbing arcade which have been restored by the Municipality of Heraklion.